Anyone running a website, blog or small business and not building an email list, is making a HUGE mistake.
I realized that tons of you out there are perplexed on how to get started building an email list. Don't sweat if you're reading this… you're not alone. The good news is that you at least know that you HAVE to build one.
Back when I ran ads to bring traffic to my blog, I thought to myself, "why would I EVER want to build an email list?"
I didn't want emails. I wanted pageviews… because more pageviews meant more ad revenue TODAY!
To put this in perspective, had I built an email list, when a publicly traded company approached me to advertize on my blog, I could have asked for 7 to 10 times MORE money than they originally offered.
How dumb, right?
Fast forward to today, I see people making the same mistake I made years ago. Instead of building their email list, they're focusing on pointless things like social media… or worse… pageviews (STILL!).
And that's why I want to share this new video with you where I share why building your email list is VITAL.. and how to get started with it.
Simply Put – Social Media Marketing Is Useless Without Email Marketing. FACT!
A massive claim, I know.
But when you see the strategy  I use to combine Pinterest and Constant Contact Email Marketing
in this video, it will all make sense.
Again, If you're a blogger / small business and not building an email list, you're already a loser.
What email service provider do I recommend?
There's only one.
Why do I recommend Constant Contact?
It's easy to use.
And it's great for bloggers,  small AND large businesses.
Just check out a snapshot of the reviews:
I was also extremely confused about how to create and send a newsletter when I first made mine.  There's a little learning curve when you're getting started, but I hope today's tutorial gets all your questions answered.
This tutorial includes video, screenshots, and 5 step-by-step instructions…the whole shebang! I want it to be extremely clear for you to understand.
Now, let's get crackin'.
STEP 1. Join Pinterest (if you haven't already, where have you been?!)
Pinterest is an image search engine allowing users to find and collect ideas through lots of beautiful images (pins). The powerful strategy I use here brings a huge flow of passioniate pinners that click on my niche-related pins to sign up to my Constant Contact Email List.
STEP 2. Join Constant Contact for professional Pinterest email marketing campaigns
Constant Contact is FREE to Join with a 30 Day FREE Trial with this link (no credit card required).
Remember you get a WHOLE MONTH to set it up and try it FREE. Plus they have ongoing discounts. Just choose the cheaper $20/ month option which has all you'll need when starting out.
STEP 3. Create Your Email Lists
The very first thing you have to do in Constant Contact is set up your lists. These are groups of contacts who you'll send different emails to.  For example, a beauty blog or store might have one list for makeup, one for fashion, one for shoes, etc.
You could still send your newsletter to everybody, but by creating lists (also called segmenting), you allow yourself to send more relevant emails in the future. For example, if there's a promotion or article  on lipstick, you can send it to just your "makeup" list.
To create lists, click "Set up your first list" on the home menu. Along with typing the list name, you'll need to enter at least 1 email address (start with your own email address for testing). Don't worry about adding every single contact right away. I'll show you how to add contacts quickly in the next section.
STEP 4. Sign Up New Contacts with an Email Form on your website
Now that you've learned how to create a mailing list, you probably have at least 1 lingering question: How do I let people sign up?
To do this, you can create a form using Constant Contact and add it to your website.
When somebody fills out the form and clicks "submit" they'll automatically be added to a list in Constant Contact.
To create a form, go to "Contacts" then "Sign-Up Tools" at the top.

Click "Create a Sign-Up Form." The first step is to write the title and description of your form then choose which list contacts will be added to.
Remember – you can create one form for each of your lists and place the the form where it's most appropriate and relevant on your site.
The last step is to add your logo and adjust your color scheme. And voila. You have a signup form!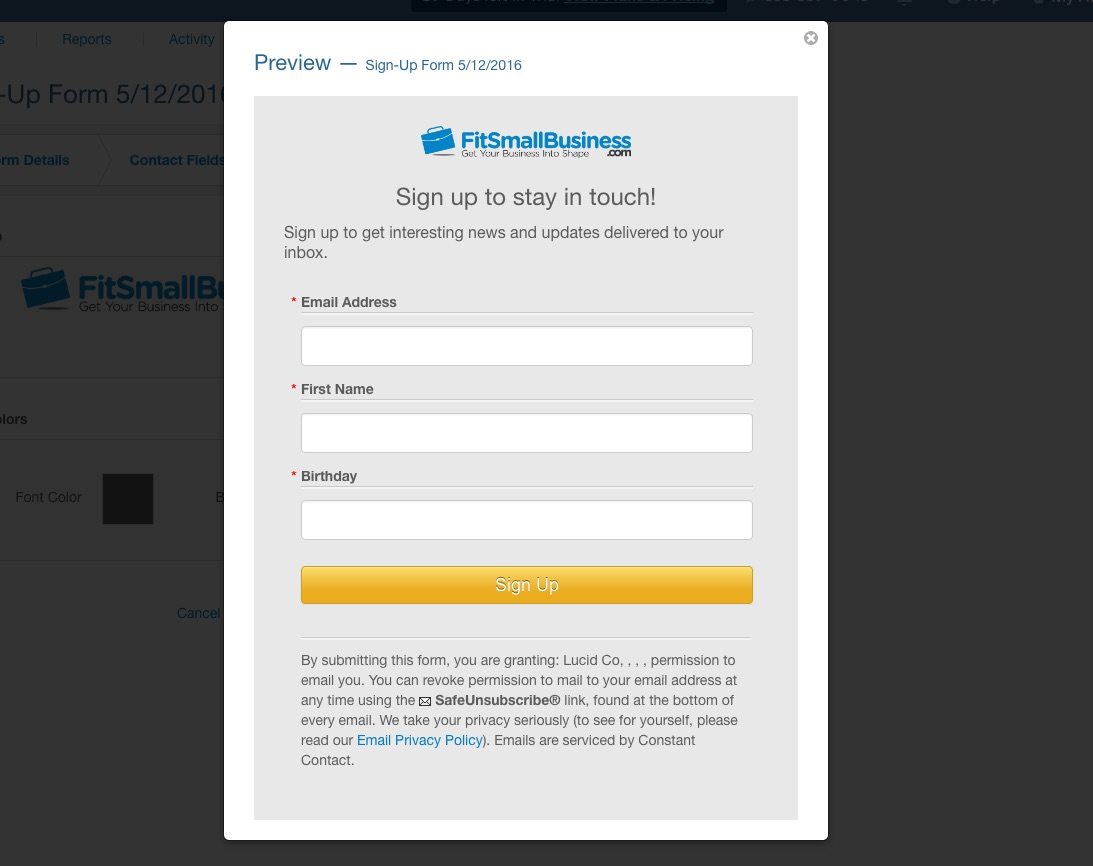 To add this form to your website, Constant Contact gives you a few options. Back on the Sign-Up Form homepage, you can select "Embed Code." Copy/paste this code and you can embed the form on your website.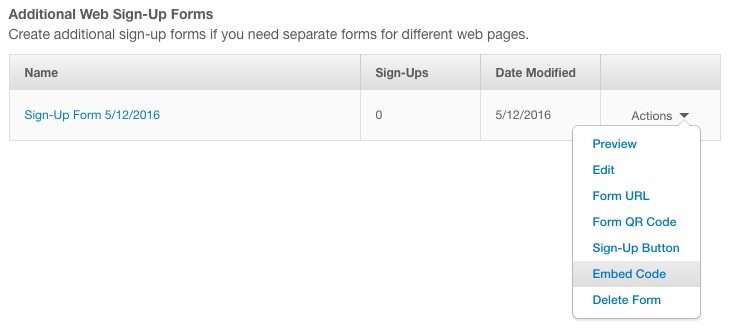 STEP 5. Send Emails to your Crowd!
With your lists created and contacts saved, we can move on to the most important step: How to use Constant Contact to send emails.
Constant Contact is a powerful emailing program with a lot of advanced emailing features, including birthday coupons and auto-messages. For now, however, let's just focus on sending a simple one-off email.
To start, click the orange "Create" button in the upper right corner. Then select "Send an Email." From here you'll find a huge range of email templates to choose from: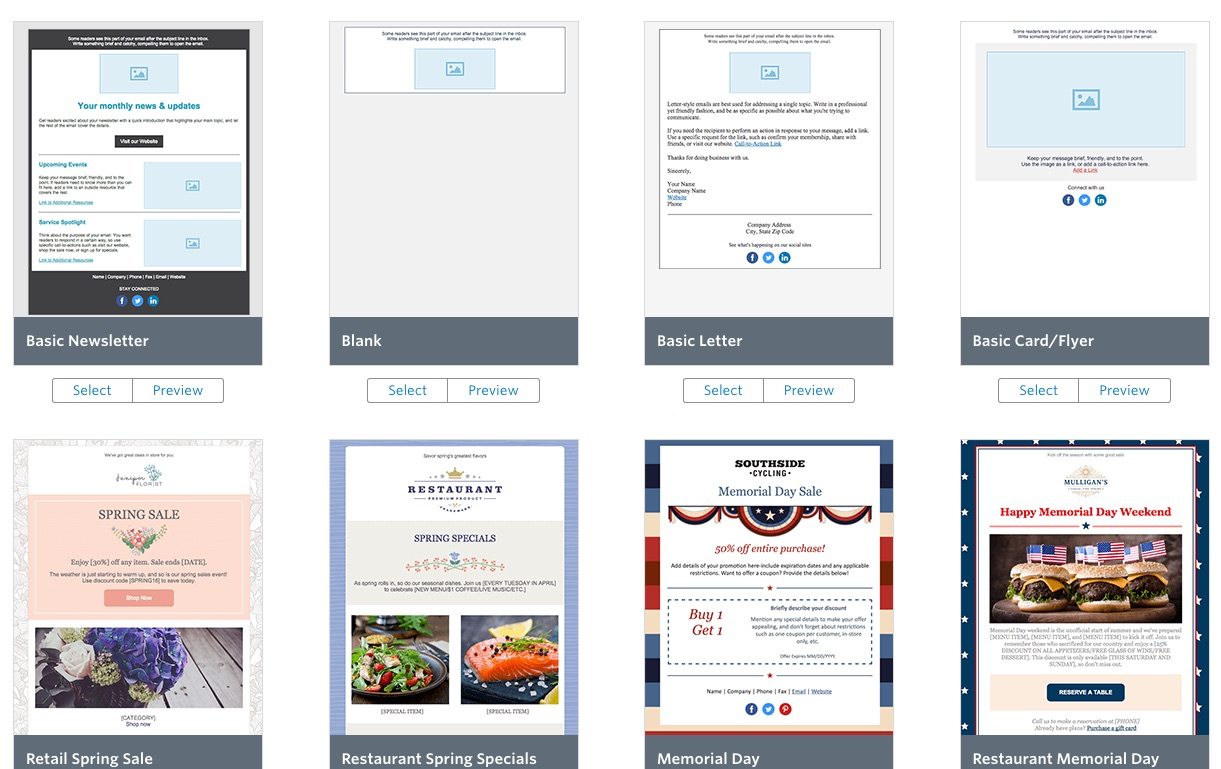 Clicking on the template brings up an editor where you can add our own text/images. You can adjust the format by dragging and dropping sections. Also, if you want to add a new section, pick one below "Layouts" and drag it into your email: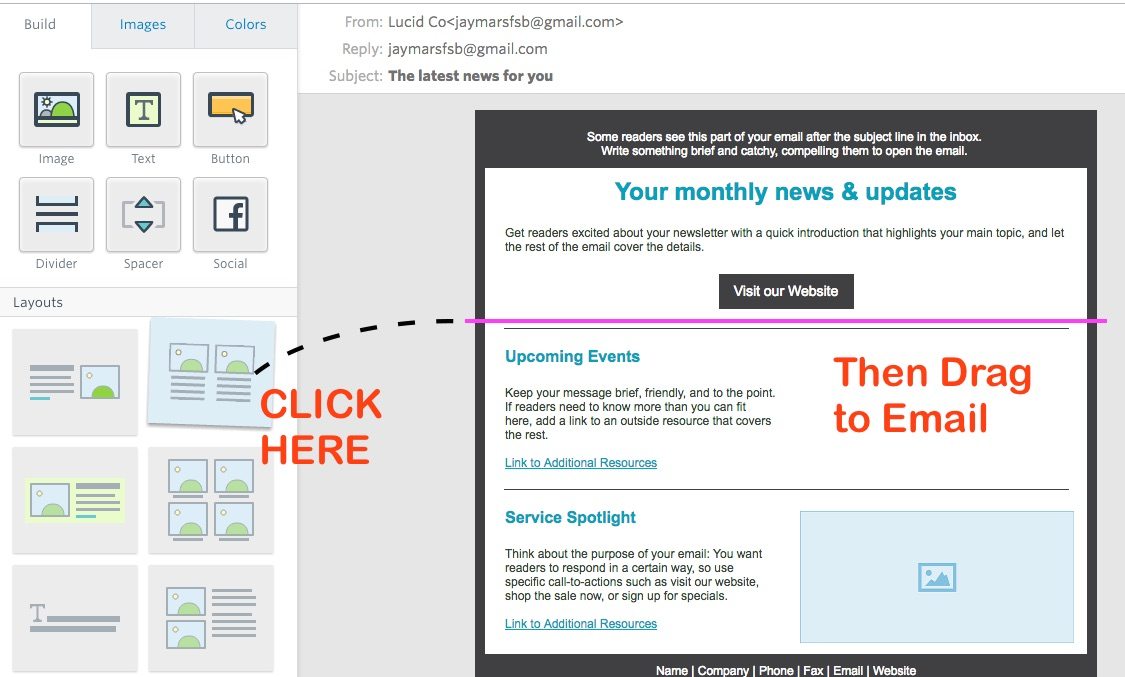 Now, as you type your message, remember that this single email will be sent to your entire list (or lists). If you want to address somebody personally, you'll have to do it using Constant Contact's "Insert" tool.
This tool allows you to add the recipient's first or last name (or their company name). It will change for each email you send, so every contact receives a personally addressed message. To use the tool, click "Insert" below font size and color.
Once you're happy with your email, click "Continue." On the next menu, you'll add your subject line and select which lists you want to send the email to. You can send the message immediately, or schedule it for later.
Who Read My Email?
One of the key perks to using Constant Contact (vs. sending emails manually) is that you can track the successfulness of your emails. Constant Contact tells you how many people opened the message, clicked a link inside the message or forwarded the email to a friend.

To view these reports, go to "Emails" then "Reports." Over time, tracking these will help you determine which types of messages customers like best. You can adjust your marketing emails to best engage your customers.
Email Automation & Other Advanced Tools
As I hinted at before, Constant Contact offers many advanced emailing tools. You can automatically send coupons on a customer's birthday or anniversary, you can send a survey/poll, collect RSVPs for an event, and more.
A more advanced option is Autoresponder Series. This is a series of emails that would be sent to a visitor after they join your list – typically spaced a few days or week apart. For example, the first email could welcome new contacts, the next introduces your business, the next introduces a specific product and so on.
Remember:
If you haven't yet started a blog of your own, I created a tutorial that will help you start a blog of your own for cheap, starting at only $3.95 per month (this low price is only through my link) for blog hosting.
In addition to the low pricing, you will receive a free website domain (a $15 value) through my Bluehost link if you purchase, at least, 12 months of blog hosting.
Are you focusing on your email list as your MAIN priority? If yes, share with me how your email list has helped you and your business in the comments below. If not, why?